All Breeds Sledding Academy
Is your dog a natural puller and pulls you off your feet? Well we have an outlet for all that drive and energy!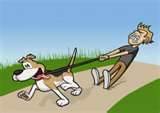 Initially the academy started out as an all breeds sledding club in 2008 after my husband and I visit our friends in Fairbanks, Alaska learning more about the dog powered sport.
In 2011 we revisited our friends in Alaska and just realized that there is a bigger need than having a few club members run their dogs, the average dog owner also has a need to do an activity with their dog. Not only does it stimulate the dog mentally and physically it creates a bond between owner and dog thus reducing the chances of relinquishment.
Since 2012 we have decided that members of the public would love to learn how to run their dogs, teaching them the cues and using the proper gear but do not necessarily want to belong to a club Per-Se. In our efforts to help the public better exercise their dogs and to bond with them we started All Breeds Sledding Academy.
At the Academy we teach your dog over 5 days (winter season only) in a how to have your dog pull you, teaching cues like left/right, onby (going past distractions), lining out etc. We also go through safety tips the basic theory around sledding and the gear used for this sport on collection with you.
All our equipment is imported and from only the highest standard, setting it far apart from anything else available in South Africa, This can be obtained at our shop Happy Tails.
A session with us also deals with all the different styles of sledding available and what will be best suited to you personally and your dog/s.
Please use our contact form for more information and to book your dog/s in with us for board and train.

We would suggest ordering a copy of Winter Dogs, Living with Huskies as Pet Dogs.

Sessions are set while your dog is boarding with us.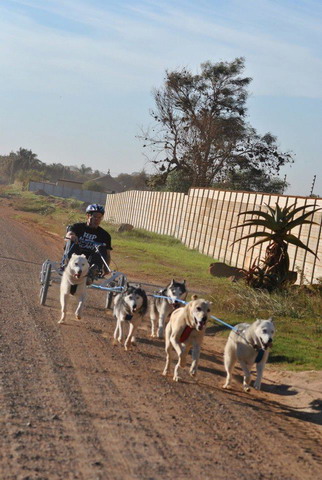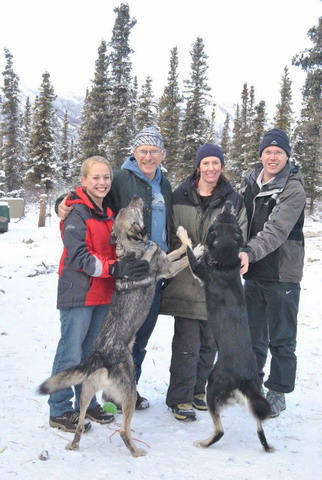 Jasper and Myself with Jeff King, his friend and his Golden Harness dogs.



All Breeds Sledding Academy is based on international standards. We are associate members of MUSH WITH P.R.I.D.E There for safety is always of the up most importance.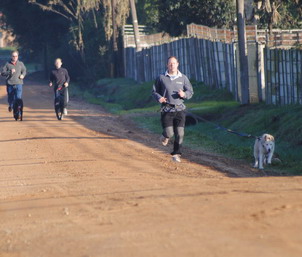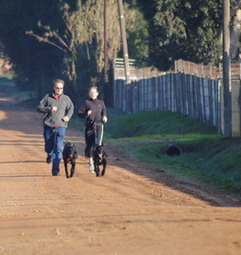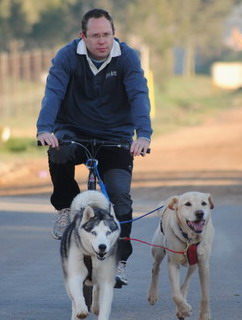 Jasper and I training two new mushing students and their dogs through canicrossing.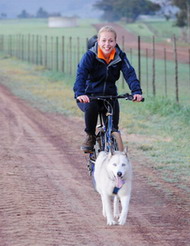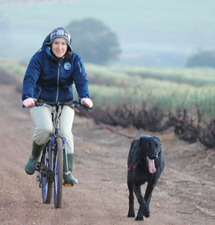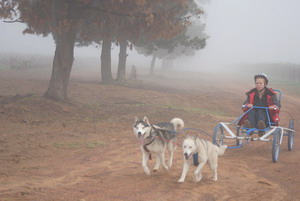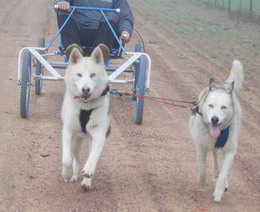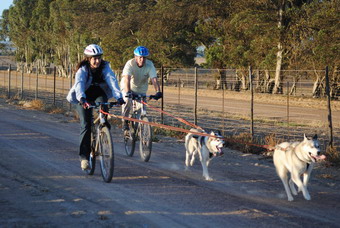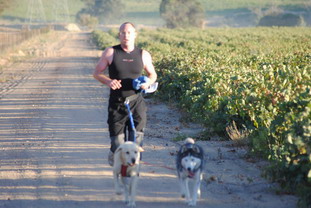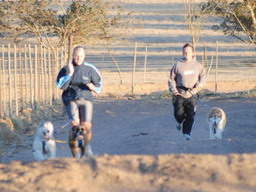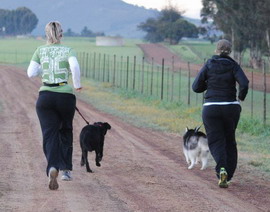 A few club run photo's 2011