Week by week progress of Chloe and her 7 puppies
Week 1 Neonatal Puppies of Chloe our Foster Husky
Chloe came to us as a stray within the 3 weeks that she has stayed with us, I realized that she was looking as if she was expecting. Little did I know that she was already 7 weeks pregnant and within a week the most adorable puppies was born.
We stayed with her during the night of the 5th of June 2012 and in the morning the first 2 was born shortly followed by the third and then the forth. About an hour later the fifth one came out followed by number 6 and 7. By 2pm that day all 7 puppies where born.
Being a foster Chloe stayed with us in one of our boarding kennels,seeing that it's the middle of winter we quickly had to move them all in the house in our spare bedroom making a little den for her and her pups.
Day 1 and 2 we had to assist with some of he pups to get them suckling on mom and Chloe develop diarrhea keeping me up every hour of the night taking her out for potty breaks.
Chloe is very shy of humans but since the pups has been born she has been a lot more open to human interaction with me, my assistant and my husband. I have moved into the spare bedroom with her at night to be able to help take care of her and the pups when she needed me.
We will be posting photos of all the pups and their names with weekly updates. In the meantime, feel free to think of a few names. We have 2 males and 5 females.
On day 3 we have started with exercises to help neonatal puppies grow neurological connections making easier for them to cope with stress throughout their lives and we will continue to do so for the next 13 consecutive days, followed by socializing with humans and other doggies. So stay "tuned"...



It's been 3 weeks since Chloe's puppies has been born. They have grown so much!! Their eyes are open and they are starting to plomp around on their little legs. Chloe has been a great mom. Tomorrow we will be deworming them, which probably is going to be a little difficult as they don't particularly care for it.
This morning our newest foster Husky Kiska that we got in last week had her puppies. So far there seems to be 5 puppies. Below is a few photos of the sweet ginger puppies.
They will all be available for adoption soon!! Please help spread the word. Adoption fee, contract and home check applies. They will be micro chipped, dewormed, vaccinated and sterilized at 6 months.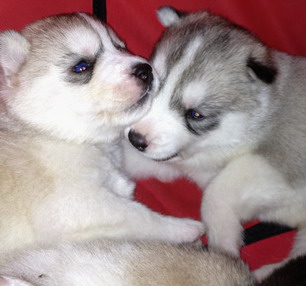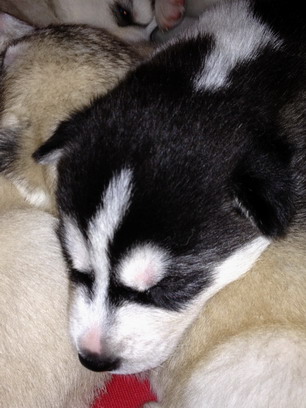 Chloe's Puppies Week 3

Back to Home Page