Cape Town Dry land-Sledding Rigs

We are a company supplying the public with imported sledding gear and handmade carts. We build 4 wheel and 3 wheeled carts and 2 wheeled scooters on demand. Our cart most often made is our seating 4 wheel Endurance cart.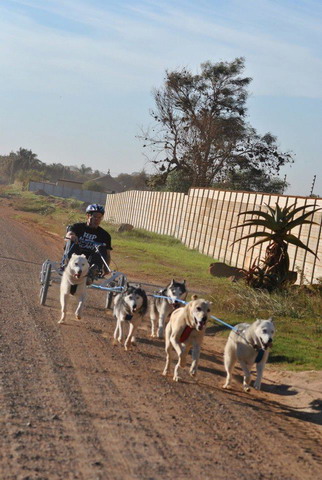 Endurance Cart

This cart can be pulled by 4 to 8 dogs (2 dogs if strong). It is not only very safe for the musher but also light weight enough for the dogs and at the same time very durable.
This cart has a suspension that allows it to twist going over rougher terrain even rocks. This is the most stable and safe cart I have used with a break system like none other. The cart is based on a 4 wheel cart that I used in Alaska.

This cart is not only very light weight but have a shock system and rose joints for extra durability as well as a modern break system. Pipes workmanship is professionally turned on a lathe machine and tig welding is used. 90% Of parts is hand made perfectly fitting and durable giving optimum speed and durability as well as safety. This cart has a movable suspension making it great for rough terrains being able to go over rocks, dips and bends like not many carts can do.
Features:

1. Mild steel square-tubing (stronger weld joints)
2. Shock
3. All wheels standard BMX 20" wheels
4. Hand activated cable brakes
5.Galvanized
6. Powder coated in black but can be made any other color at an additional cost of R500.
7. Mushers Seat.

Price: R6900.00