Healthy dogs
It goes without saying, we all want healthy dogs.
Not only can it be very expensive to go to the vet with your beloved dog, but I know for myself how traumatizing it can be.
So often we land our self's in a situation where we are at a loss of what to do when our dogs fall ill. So the key is to educate our self's as much as we can. We have to learn about vaccines, emergency care, vomiting and diarrhea, allergies and many more.
I don't think that we should take matters into our own hands. I just think we need a little back ground on the basic stuff that daily happens to dogs. So that we are better prepared in one of these situations.
I also believe that it is crucial to learn about different methods of treatment and what you can do as a dog owner to prevent certain illnesses and accidents.
You will see me say this again... get to know your vet before there is an emergency Ask how they feel about vaccines and know what the pros and cons are. Ask any question you feel you need answered.
I would like to help you answer some of the frequently asked questions...

Veterinary care
What is Healthy dog food
How to treat kennel cough
When is the right time to sterilize your dog
Ingredients for you to help you make your dogs own raw diet
Why do some pet food smell so bad
What does vaccines really do
Things to know about the Welfare of your dog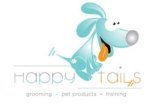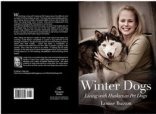 Winter Dogs Second edition!! for only R180!!
Place your order now!!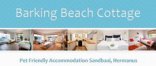 Pet Friendly Holiday Accommodation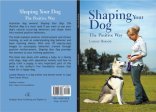 Training and Behavior book. Shaping Your Dog,The Positive Way available online through amazon.com, Barnes and Noble.com and other reputable outlets. Also available through our web site. Cost:R280.00
Click on the image of the book to see the video trailer or click on the book Winter Dogs to order any of the books.
Louise Basson on the Expresso Show talking about Huskies and Husky Rescue 2012.