Liver bread treats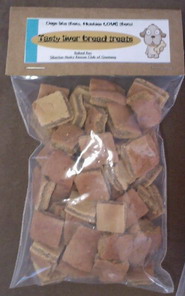 Ingredients:
500g raw chicken livers
2 large eggs
2 cups self raising flour
2-3 table spoons of olive oil
Method:
Liquidize all the ingredients until smooth. Mix together with flour. Grease a baking pan. Bake at 180'C for 20 mins.
Cool down and cut into small squares. Dry out in low oven over night and pack into container.