Man Mat products
Man Mat provides in all your mushing needs, from harnesses to skijoring belts.
This range has absolutely everything and only uses the finest quality materials and hardware. They also make use of Italian bronze snaps. The whole range is handmade taking specific care in stitching.
Manmat is one of the leading producers of sledding equipment and widely used in Europe and the USA by well known mushers.
HARNESSES:
They are made of 100% polypropylene. The material used for padding has been tested for wear. It leaves the dogs coat intact too.
Man mat offers the following harnesses:
X-back, Guard,Pulka,Light weight,Light weight long,Soft universal,Hound,Wheel dog,Merhi andMerhi long,Long distance.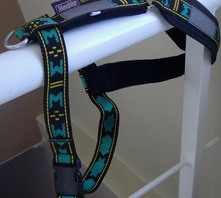 Long Distance Harness
This harness is specifically use full for higher attachments like bikejoring,canicrossing and scootering. It has an adjustable strap around the waist area. The harness fits around the neck and is padded and straps around just behind the front legs.It's great for dogs with hip or back problems as it lessons the pressure.It also has reflective tape. Harness is machine washable.


Reflective X-Back Harness
This is the traditional harness used for sledding. It can be used for any form of mushing but is great for a sled or any lower attachment.Padding around the neck area and a double wide breast plate. Durable webbing.This harness is almost non soaking and does not knot dogs hair. Harness is machine washable.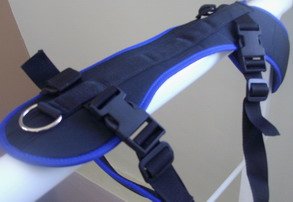 Merhi-Long Harness
This harness is a longer sister harness of the Merhi harness and is to be used for scootering and bikejoring. It fits short coat dogs well like Dalmations.


LINES:
LINE FOR ONE DOG:
Can be used for ski joring,canicrossing,bikejoring etc. The line has a built in bungee made from tubular webbing of 3m long. It helps with even distribution of pulling force and does not get tangled easily with other dogs.The bungee used in this line helps to absorb shock.



1 - Dog Joring and Tugline with Bungee


2 - Dog Joring and Tuglines with Bungee
This line is for 2 dogs. It has two build in bungee's and tug lines. It is made of tubular webbing. The line is the perfect length to avoid tangles. This line can be used for any dry land mushing and ski joring.The bungee used in this line helps to absorb shock.


Neck lines
Come with italian bronze snaps and is just the right length. It comes in yellow and black thick rope or plain black thin rope.



Lead with Bungee
The bungee used in this lead helps to absorb shock from your dog initially pulling you forward. This is a very durable attractive lead.


SKIJORING / CANICROSS BELT:
This belt is very durable and works on the idea of a mountain climbing belt. It supports the back and spine while wrapping around the buttocks and middle. It's padded and can easily be adjusted to fit any size musher.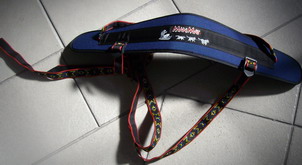 Skijoring belt


DOG BACK PACK - BLUE LINE:
(Allows dogs to pull even with the backpack on). A must for dog trekking! Fits medium to large dogs
THERMO COAT:
Fiber filled and water resistant with an adjustable neck opening.This coat is really well made and looks great while doing what it is intended for. The coat close with velcro and has a plastic clip to fasten the coat to the dogs body. It fits the dogs body comfortably while being stylish.


Thermo Coat


DOG TREAT BAG:
This treat bag is a great for training, a gift, or just every day use going on an outing with your dog. Available in assorted designs.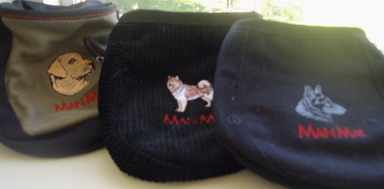 Treat Bags


COLLARS:
Man Mat has an assortment of collars. Some are padded, reflective etc. They are very durable and can match up with any harness. No plastic clips are used. So when dogs play the collar will not come off from plastic clips that got chewed on. Collars are machine washable.



Standard Collars


Semi-Choke Collars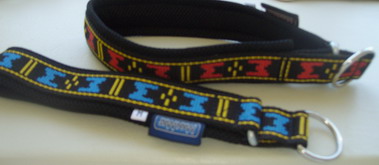 Extra Padded Collars


Booties
To protect your dogs feet against hard surfaces like gravel etc.They come in all sizes. This is also a nice feature for dogs with things like grass allergies. The booty fastens up with velcro going around the whole booty. The booty is very durable and machine washable.


Booties


DOG TREK BAG:
Bag developed for rescue missions in mountains.
Man mat offers many more products.
If you are interested in ordering or would just like to have more information please fill out the form below. A full catalogue of products can be send to you.
Information provided by dog-care-centre.


Colours of Webbing