Hi



Its that time of year when people start running their dogs more often or go hiking, biking with their dogs or even doing sledding with their dogs.

I look at a dog harness from the view point of a dog trainer, dog musher as well as pet dog "owner". To me a harness should serve a specific purpose. It must be comfortable, safe, durable and practical to use for my dog and me.

There are soooo many harnesses out there and from the originals you find many cheaper imitations. But when you go cheaper be sure to look at stitching, that there are no little threads sticking out that could potentially either go loose or could put rubbing on your dog causing sores and irritation.

For those of you that have horses will know how important a right fit for a saddle is for your horse. Even though it might not be visible to the untrained eye that it's a ill fit and inflicting pain it does not mean it's not there. It's the same with fitting a harness for a dog especially if you do more than just walking around the block.

Think about it this way...

If you put on shoes to go to the grocery store you are likely not to use the same shoes to go hiking and how easily a ill fitting shoe can hurt us even if it is your regular size.

If you are into sledding I would always suggest a proper sledding harness and do some research in finding a reputable product.

When a athlete buys running shoes he invest in proper reputable shoes and not "look a likes" that don't have the same science behind it. To him he needs to protect his knees, joints and even muscles and having the right shoes is a vital part of it along with conditioning and training on the same type of terrain he would compete on.

It is always worth spending a little more when it comes to our dogs comfort and well being.

With sledding the traditional X-back and H-back harnesses are most popular when using a sled. For urban mushing like bike-joring, canicrossing and scootering we now rather make use of the long distance harness similar looking to a regular walking H-back harness which is completely different from the traditional H-back sledding harness. However the long distance also known as a shoulder harness or urban trail harness should not be confused with a regular walking harness.

A few years ago we started to import these harnesses to South Africa both from Man Mat as well as from Alpine Outfitters which has both been tested over time in extreme weather conditions, rough terrain over very long distances. At the time sledding clubs were still using self made x-back harnesses but now more and more people are starting to make their own long distance harnesses.

The Long Distance Harness which pulls from further up by the shoulders, rather than from behind. It also has a higher attachment ideal for bike-joring and canicrossing. Unlike other harnesses, it only reaches less than half way down the dog's back, and eliminates the pressure a standard sledding harness puts on the dog's hips. The harness puts less downward pressure on the dog's hindquarters, which helps to eliminate ankle problems in the hind legs. In addition the harness design also reduces the occurrence of shoulder and wrist injuries. The Distance Harness's point of attachment can rotate freely around the animal's torso which some people think is wrong when in fact once the team starts pulling, the harness rolls over closer to the gangline, making dogs run straighter. It also stops dogs from crabbing outward. Crabbing apart from being a novice sleddog, is often a cause for a front leg, wrist and shoulder injury. The harness is not affected by the length of the dogs back. The harness has to stop behind their withers. The collar part of the harness should not ride up the dogs neck as this could cause friction.

Apart from sledding these harnesses also work great for heel work, and everyday activities like going to the beach or park which gives the handler comfort and more safe control without putting pressure on the dogs trachea or esophagus. It has light reflectors on making it ideal when walking around the neighbourhood at dawn. It is sure to last you a couple of years if looked after. They are padded, protecting the pressure points, easy to fit, adjustable and dogs don't reverse out of them.

A quote from Jeff King at Eagle Island during the 2003 Iditarod:

"I am confident I have some dogs in this team that would not have made it here without them (the harnesses)."

Below is a link to these harnesses if you would like to have your dog fitted just reply to this ezine.

If you are wanting to learn more about sledding get a copy of our book Winter Dogs;Living with Huskies as Pet Dogs and for dog training and behaviour get your copy of Shaping Your Dog-The Positive Way.



Click -Online Store-Alpine Outfitters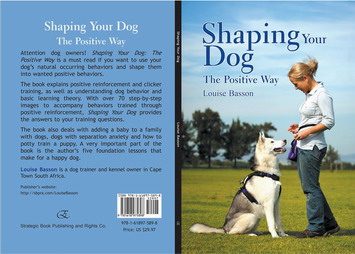 Click on the image for more information.