Rescue work
I have been in rescue work officially since 2008 doing it part time from home with fostering,rehabilitating and rehoming of over 48 Huskies up to date May 2012. I do home homechecks as far as Ceres, Langebaan,Noordhoek,Somerset West and the Northern Suburbs.
Rescue work is no easy task and takes a lot out of your personal time and space. The main reason for this function is because so many dogs including Huskies are neglected and abandoned. The most common reason given for relinquishing a dog is because the owners are relocating. However studies have shown that this is merely a reason given but not the main cause. In my book Winter Dogs;Living with Huskies as pet dogs I talk in more detail about this subject.
I have adopted 3 of my own Huskies as well and it has been an absolute blessing!
However many people want to help and you can do so by taking great care of your own dog which is more than just food,water and shelter but also includes training, exercise and sterilizing your dog for it's own health as well as helping to cure over population. You can also help by educating the public about the breed and if you think you can volunteer to help foster a Husky or donate towards the cause then please contact a representative in your area.
Husky Rescue have between 50 - 70 Huskies on an ongoing basis available for adoption. Our biggest volume is in Gauteng at our Husky Haven not because there are more Huskies being relinquished, but because more people get involved in fostering Huskies.
Husky Rescue S.A. take in abused and abandoned Huskies and help owners who need to rehome their Huskies because of reasons beyond their control by helping to network their pets.
I myself have scaled down in fostering Huskies after doing it for over 4 years, although since have had 5 Huskies and 7 puppies in only a few months. All the volunteers do this part time and mostly from home apart from those staying at the Husky Haven.
They have regular open days at the Haven in Chartwell for the public to come and spent time and maybe possibly adopt.
Visit the Husky Rescue site for more details and to contact a representative in your area.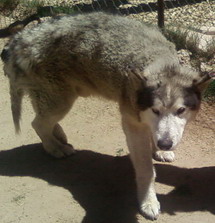 The Puppy Blog - 7 Husky puppies and mom

What to do when you are thinking about Re-homing your Husky