Wag World
Welcome to the world of Wag…where we aim to make all our products people friendly, (so caring for your product is easy peasy while looking great in any home) pet friendly, (by using super deluxe and durable fabrics ensuring ultra comfort and enjoyment for your furry kids) and planet friendly, (by using recycled / biodegradable products where possible!)
dog-care-centre stocks the full range, for more info fill out the form below or come and visit our dog-care-centre store to see and feel the products for yourself...

Snuggle Rug
The deluxe faux fur makes for extreme comfort, warmth and looks GREAT! Snuggle rugs come in 1 size (48x60cm) in wolf and leopard design, padded with a double layer of batting and stitched into place so won't bunch when washed. They can be used indoors, on veranda, kennels and crates. A bonus for pet-lings that tend to shed as the hair does not show up.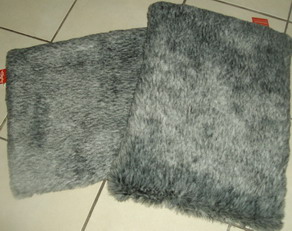 Cup Cakes
NEW RANGE OUT!
These little beds are a favourite with the smaller breed of doggies and cats. They are double sided, with a fluffy, warm side for winter, and a cooler, canvas side for summer. We've added stylish stripes for a new look this year, bound to brighten any style of home. The sides can be up or down, turning a warm cozy evening bed into a 'lounging in the sun' day-bed. Available in tiny and medium and 3 different colour combinations. Keeping them clean and fresh is easy, just untie ribbons and wash on normal machine cycle.


Blankies
The most delectable, soft, yummy micro polar fleece is used to make our blankies. Anty pill on both sides that keeps looking great, wash after wash. Available in med. 70x80cm and large 100x110 cm, in charcoal, red, baby pink & winter white.


Nooky bags
For pet-lings that love to burrow, hide or just wants to be warm and cozy. These little sleeping bags are purrrfect for kitties and doggies. They are made with our super luxurious coral fleece,padded and finished with a bit of leopard print just to add some grrrrr. Available in small and medium. Comes in choc, rose,pienk, red and crème.


Bandanas
Bandanas are a quick and easy way to dress up your pet dog. Available in 2 sizes and are reversible with colours for boys and grrrrls.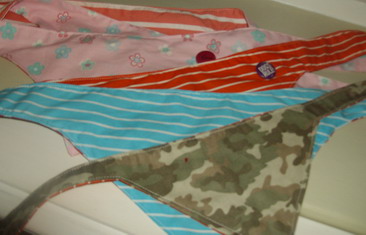 Toys
We have a selection of different soft toys, from bones to bears and hearts! All toys are stuffed with recycled cotton & fleece and come with squeaker to help keep the dog entertained! Fun to play fetch with or just to snuggle up against.