Dog care and training made easy
It all started in 2004 when my husband and I got our first Labrador puppy as a newlywed couple. We thought we knew how to raise a dog little did we know that we had very basic knowledge. Most pet dog owners know the basics of feeding, vaccinations, but even lack the simple knowledge of the benefits of sterilization hence the problem with back yard breeding and other health and behavioural issues...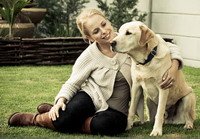 Owning a dog for a lifetime entails a lot more than just providing food, water and walks. At dog care centre we focus on force free training methods to teach your dog to be a well adjusted being in your family and coping with his environment. We also equip you with the needed know-how of how to train your own dog and make you aware of it's specific needs. We focus on basics for example teaching a dog not to bark excessively or jump on guest and chew furniture. How to teach a dog to come reliably when called or walking nicely on a loose leash.

Most dogs are annually euthanized because of unwanted behaviors, veterinary practices loose over R100 000 in income annually due to dogs being euthanized for unwanted behaviors and most of them are all training issues that humans do not how to address.

When I got my second dog Ice (Alaskan Husky) I sought professional advice and found amazing people (dog trainers, groomers and dog mushers in Alaska and Colorado) and with their guidance I studied to become a professional dog trainer, behaviour consultant and dog groomer.

I started a All breeds Sledding club focusing on Alaskan Huskies and a boarding facility for dogs, cats and bunnies. We also implemented our 3 week board and train program after I experienced the success of these programs working in the States. Our focus are on fearful and reactive behaviours and basic manners for all dog breeds of all ages.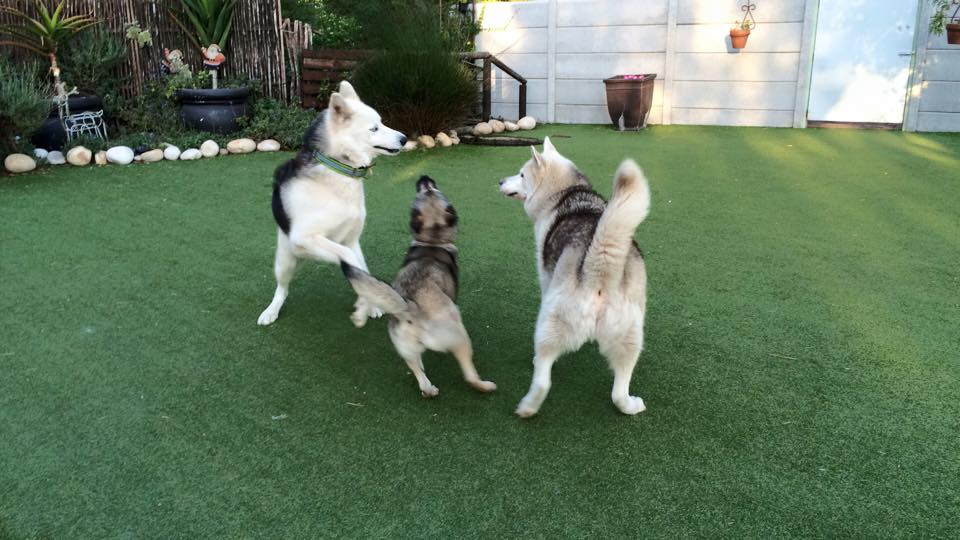 Since then we have adopted 3 more Huskies, a Boerboel and a Bull mastiff as well as a Corgi and a Beagle. We have lost our one Siberian Husky Denali in 2014 and our Labrador Gephetto in 2015.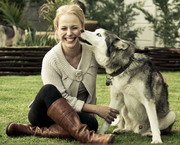 We strive to make all pets staying with us comfortable and relaxed and provide a stable and loving environment while your pet stays in our care. We are a smaller facility that provide optimum care and a professional service. We also provide supervised day care and walks while your dog stays at our kennels. We offer 13 spacious outside kennels that has synthetic lawn installed as well as good weather coverage. We also have a indoor cabin and a in-house option for smaller dogs and bunnies. All dogs come out regularly during the day and are not socialised with other dogs if not booked for day care or for training. We have been in the business for 9 years and have a large returning clientele.
Look on the navbar on the left for more articles, our boarding and training information as well as more insight on me (Louise) and my team.

To contact us you can make use of the contact me form.
How would your dog benefit from a dog day care
Positive Reinforcement training services including board and train and Husky specific behavior training
South Africa's number one grooming parlour and pet store and indoor training centre
Communication with animals relaying a message
BarkingBeach Cottage
We stock a variety of imported pet products
Winter dogs are everything you want to know about Huskies
All Breeds Sledding Club is for any one who wants to mush with their dogs. No breed specifics
How to measure your dog to fit a long distance or shoulder harness
Rescue work.
Training our dogs
Puppy training, what should I know
Articles of previous issues published in Animal Talk
Healthy dogs
Mind stimulating games to play with dogs
Dog Care Info
Rating pet friendly places
These books I have read are on the top of my list
Write about your dog stories and adventures
What to do when you want to keep your Husky but don't know how
Mushing training schedule for 2010
Links I support
About me
contact me
Business hours and services
A monthly info letter about dog training and care
Dog Blog keeps you up-to-date with all the newest information on dog-care-centre.com Subsrcibe here
How puppies develop