dog-care-centre
Science Based Training - Plant based Intuitive Healing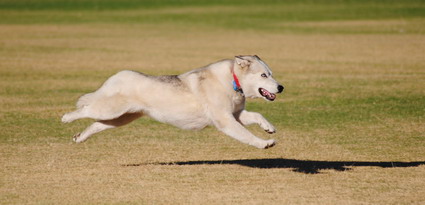 I grew up around animals and have been surrounded with them ever since. When I got married we bought a Labrador puppy with the money we received as a wedding gift. His name was Gephetto, he sadly passed away when he was only 11 years old. A year and a half after getting married we adopted a Alaskan Husky puppy Ice. Little did I know how she would shape my new life. Due to her I learned about sledding, went to Alaska and made really good friends. And changed careers from a beauty therapist to a dog trainer and animal communicator that also let to us buying our first small holding in order to be able to start dog care centre. 
In 2022 I had to make the very difficult choice of having her put to death on her birthday month of turning 15 years old. She was the fastest Husky I ever knew, she could swim for an hour if I didn't intervene. She was so gentle with fearful dogs but gave the boisterous no manners dogs just a stern look and that was enough to put them in their place. She worked hard at the centre teaching youngsters how to behave properly, but she played just as hard! She could sprint up mountains and gallop along the beach effortlessly pull me at 40km per hour on a cart. The day she died I sat with her for 3 hours just spending time with her. She was and still is my soul dog, she has taught me so much every day about love, patience, endurance and pushed me over my comfort level. At one time I had 9 dogs and they are certainly all very special and close to my heart. But Ice literally steered the course of my life in a completely different direction. Through her I learned about Alaskan Huskies something which at the time was very unknown in South Africa and still in some ways are. I miss her every day, but I feel her guiding me as I continue to do the work of helping more animals. She had a few months here on our new farm to run and explore and I can now see her fly up the hills at full speed smiling upon us. 
I have so many stories I could share of each of my dogs, those living and those whom have passed as they are all special and unique.
This site is dedicated to all my animals living and to those whom have moved on from here.
R.I.P. but never not in my mind
Ice, Gephetto, Decota and Denali
Dogs currently still with us
Kinley (Husky), Gusha (Lab), Harry (Corgi), Joey (Beagle), Ally (Husky cross), Savana (Bullmastiff), Simba (Boerboel x Chow).
Our horses
Marley (My personal horse), Blue, Yogi & Fudge. 
Farm animals
Milley and Fredley (sheep), Chickens, Pigs (Bob & Stuart), Bunnies.
About The Centre
We strive to make all pets staying with us comfortable and relaxed and provide a stable and loving environment while your pet stays in our care. We are a smaller facility that provide optimum care and a professional service. We also provide supervised day care and walks while your dog stays at our kennels. We offer 13 spacious outside kennels that has synthetic lawn installed as well as good weather coverage. We also have a indoor cabin and a in-house option for smaller dogs and bunnies.  We have been in the business for 12 years and have a large returning clientele.
Look on the navbar on the left for more articles, our boarding and training information as well as more insight on me (Louise) and my team.
About me
contact me
How would your dog benefit from a dog day care
Positive Reinforcement training services including board and train and Husky specific behavior training
Online dog training courses
Social play sessions for dogs
South Africa's number one grooming parlour and pet store and indoor training centre
Communication with animals relaying a message
Trauma release in the fascia through massage techniques
Healing Animals and Humans through plant extracts
Trusting your intuition and healing through plants
BarkingBeach Cottage