The main connection on the back of the harness tightens gently around the chest to discourage pulling behavior, while the connection on the front of the harness allows you to redirect your dog's attention back to you for training and treats.
The Optional Training Leash allows you to connect to the front and back of the harness simultaneously. Alternatively you can use the training leash to connect to the harness and a collar at the same time, providing additional control points. 2 Hounds Design is the exclusive manufacturer of the Freedom Harness, which is Made in the USA!
We import this and are the sole stockist in South Africa. It works very well in conjunction with positive reinforcement training.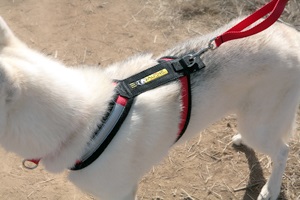 We also import and use in our training the Urban trail/sledding harness from Alpine Outfitters and are the stockist in South Africa. It depends on what the dog needs and what the owners needs are regarding exercise. Their price range is similar.
The ORIGINAL...copied by many, equaled by none. Our Urban Trail Adjustable Harness, aka Half-Back, Shorty or Shoulder Harness.  CUSTOM FIT means that each harness is cut & sewn to order to your dog's exact measurements and specifications that you provide, ensuring a comfortable like-a-glove fit for your best friend.
A versatile harness for mushing and a variety of other dog activities such as scootering, bikejoring, roller blading, canicross, skijoring, tracking, hiking, and is second to none for comfort and safety for everyday use for walking also having a front and back clip. The harness is fully padded everywhere that touches your dog, even under the buckles and on the adjustment strap. Optional lightweight nylon pack cloth covering is available - retain all the benefits of the fleece padding, without the hair, burrs, and debris that sticks to it!
Adjustable at the neck and girth or fixed neck with adjustable girth option. 
Neck and girth will adjust one inch smaller and extend five inches larger than the sizes submitted.
Pulling pressure is on dog's chest, not neck and shoulder and eliminates downward pressure on dog's hindquarters. Rotates freely around dog's girth, thereby helping to reduce 'crabbing.
Standard d-ring at the girth is welded and nickel-plated. Strong and durable.
Polartec Fleece Padding - comfortable, lightweight, and durable. The harness is padded everywhere that touches your dog, even under the buckles and on the adjustment straps
Say NO to chafing! By design, the harness girth sits right behind, not on, the front legs, greatly reducing any chance of chafing.
"Big Dog" Wienerlock® Buckles - U.S. military-grade, made in the USA, strong and durable
We might require the use of a human waste belt harness with a bungee line attached.