Dog Care Centre



pet holiday resort

and training centre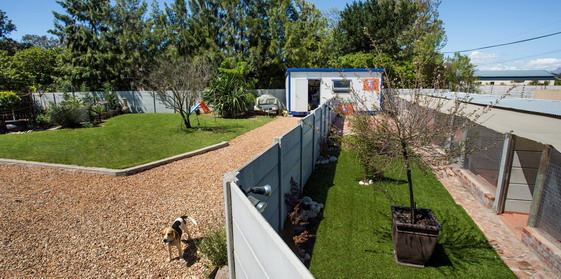 This facility is situated in Joostenberg vlakte, Cape Town, South Africa.

For a viewing of the facility please contact us for an appointment.
Viewings take place Mon-Fri between 10:00 - 15:00
021 987 1027

Kennels
Dog care centre day care and kennels is a elite facility to provide a safe and fun place for dogs, cats and bunnies away from home. We have a very high rate of customer satisfactory.  We specialize in working with dogs and we work with any breed of dog. We are hands on with each dog and give them individual care. We strive to make this a fun retreat for your companion with personal attention, little to no stress environment. We have many years of experience in working with animals including dogs, cats, horses and rabbits.
Our main focus is dogs and we are renowned for specialising in Husky behaviour. The owner; Louise Basson of the centre have written a book on Husky behaviour called; Winter Dogs, living with huskies as pet dogs as well as a training and behaviour book called Shaping your dog - The positive way both published through Strategic Publishing LLC.

Dogs are kept separate during their stay with us except if requested to be part of our day care socializing program which is always done by a professional dog handler on staff.

  Kennels are approximately 20 square meters each of which half is covered under a roof and the other half under a shade net. To ensure your dogs safety we installed pet fencing. In summer we offer water mist sprinklers in the kennels to cool the dogs off. We also provide bedding, toys and food bowls but you are welcome to bring your own.
When the dogs come out for their rounds 2 - 3 times a day, they are able to make use of the whole property which is 2000sqm. They are then able to run and sniff on the lawn while also enjoying various water play areas. This is for basic kenneling, extra time out in the form of day care with other well socialized dogs as well as walks off the property including farm walks can be booked additionally at an extra cost.

Grooming can be arranged while your dog is staying with us at our parlour - Happy Tails that is situated in the area.
Also have a look at our board and training option.

We cater for dogs of all ages and sizes...
Puppies and dogs with special medical needs are catered for .

During drop offs and pick up time all dogs are safely put into comfortable kennels to insure safe departures of incoming and out going guests. This is why drop off times are adhered to at all times.
All overnight guests will be fed twice daily or otherwise requested with food provided by the owners, you are also more than welcome to have us feed your dog RAW food, we stock Dog matters and Doggobone at an additional cost.
You can also choose to include chew treats to your dogs preference, which we advice if your dog is staying here for longer than a weekend. You can also chat to us regarding your dogs diet for some professional guidance if you struggle with food allergies or weight.

In Door Forest Cabin boarding
All small dogs and or puppies are welcome to make use of our in door forest cabin. The cabin is fitted with a heater for cold winter days.  There are two windows with safety net for our escape artist in the cabin to let in natural air and light.They also have their own fenced in courtyard leading out from the cabin.

Being situated in the garden they are able to hear calming nature sounds.  This area is very safe, cozy and creates a comfortable area for dogs that are used to being indoors.
Dogs come out regularly during the day to potty on the lawn. Dogs get special one on one attention and are not faced with the buzz of our outside boarding kennels with bigger dogs. They can be taken out for daily walks outside of the premises on your request. Dog beds, bowls and bedding are provided by us. Small dogs are kept to your feeding routine and special diets are welcome at an additional cost.
In House Bunny Room
This room is dedicated to bunnies, away from all other animals securely in a house. They are checked on regularly through out the day and one on one time is spend with them. We supply teff and oathay as well as Eco cat litter for their litter trays. We can at an additional cost supply Burgess Rabbit food from our shop Happy Tails. The room is also equipped with an aircon for our summer months.

We also offer bunny grooming as an additional service at our parlour Happy Tails.


Cattery
Each suite is spacious with a variety of toys, beds as well as different height posts to sit on and view it surroundings. 
In door heating and separate suites. The cabin is in an enclosed and secure area away from all dogs. 
Cat sand boxes are filled with crystals or eco cat litter and cleaned twice daily. Cats are fed twice a day and receive snuggle time with a staff member during the day. We also have a deluxe gazebo cattery that is very spacious.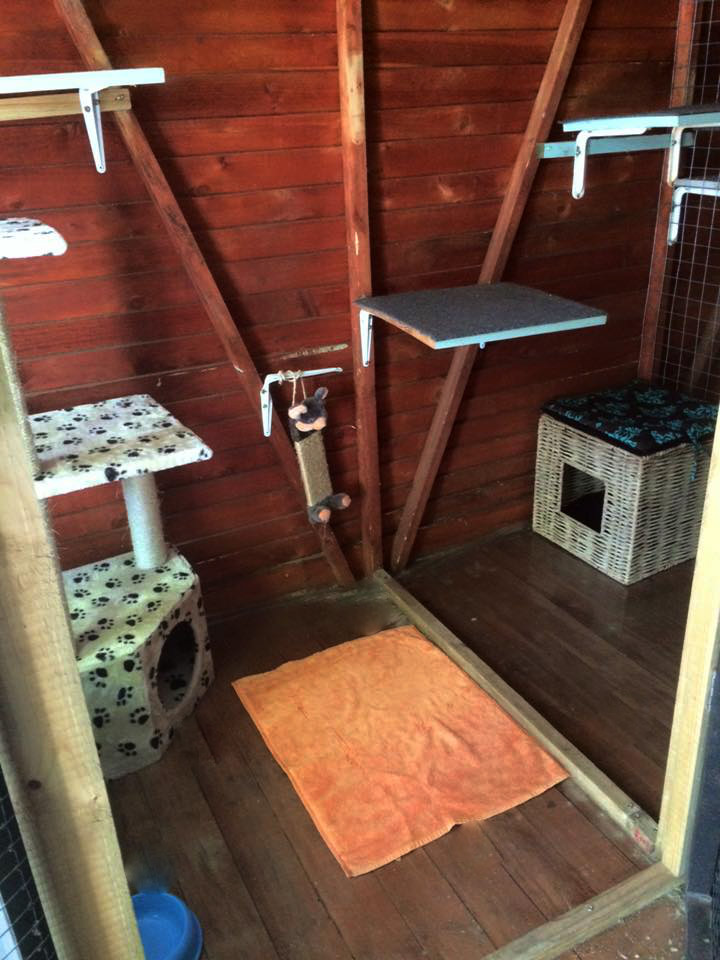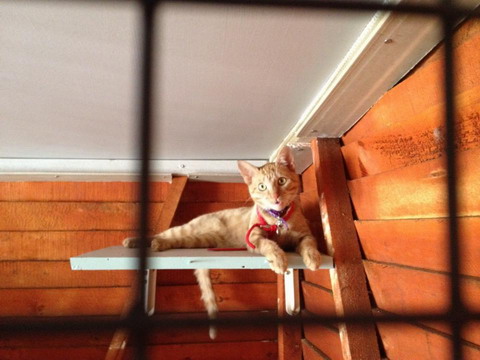 Board and Train
This package is for our guest who stay a minimum of 15 days training takes place Mon-Fri. This will include daily training except on weekends or public holidays. Training will include no jumping, wait by gate or door, sit and down cue, learning calming behaviours at restaurants, reactivity (lunging on lead , barking, fear aggression) training to name a few. A one on one session of 30 minutes will take place with the trainer, owner and his or her dog on the day of collection. All training is force free. Read more about our training on our "Training page."

Day care with or without Boarding
Who can come and play?
Day Care is done by a professional dog trainer or assistant trainer and positive play is kept at all times.
We cater for both small and large dogs in our day care program and keep them separate. 
Well socialized dogs are welcome. A screening fee for the first day is applicable. This is a great way to socialize your dog while staying at our kennels also helping with boredom and keeping your dog happy and active at the same time. All dogs are well socialized and introduced to the group with a very neutral dog and slowly adding to play with.
Dogs can come for day visits too to join in our day care groups.
We have a price list separate for our day visitors. Please request this via the contact form below.

How do we go about it?
Day care is socialization between 2-6 dogs with 1 to 2 staff members to supervise at all times. Dogs can play freely on a huge lawn and take part in stimulating play and learning activities while being super vised. Toys are only introduced if none of the dogs in the group is toy aggressive. Excessive barking or vocalization is interrupted through body language or if need be short time out sessions for more rough play.
How long is play time?
Day care takes place any where from 10 min - 30 min at a time and repeated through out the course of the day. Each dogs needs and personality is different which determines how long they are able to enjoy play.
If the dog/s however need to have a down time separate from the others dogs from being over stimulated it will be done and play will commence again later during the day.

Dogs can play to their hearts content with other dogs, swimming, running, playing with toys and interacting with humans all super vised by a certified dog behaviour consultant and trainer and staff.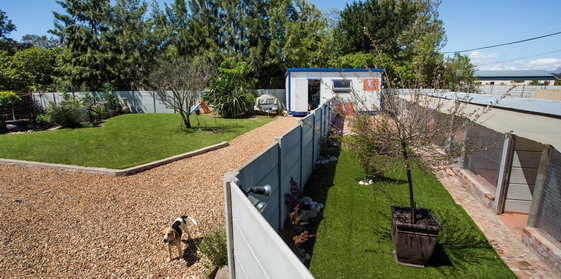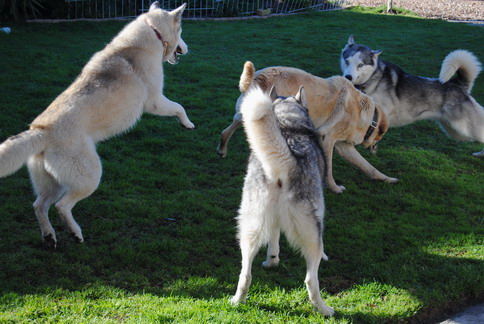 Walkies
For an additional fee your dog can enjoy a 30 min walk daily in a safe but enriching environment by one of our staff members. You can either choose from an off lead farm walk (must be well trained off lead) or on lead walk in our area. This is a great way to reduce boredom while boarding but also great for dogs who cannot join in the day care set up.
For our boarding, training and day care rates please fill out the contact form provided below.
We will also supply you with a booking form to be completed.