Mushing in Alaska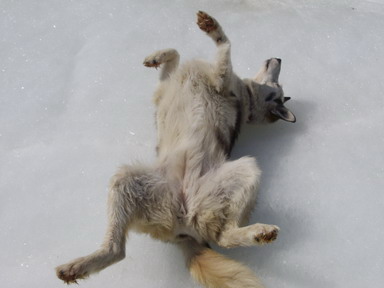 I will never forget the winter that we went to Alaska to visit with my friends Lynn, Swanny and Kirsten. It's a experience I won't soon forget and I hope to return rather sooner then later, only this time my baby Logan will join in this adventure.
Most of the mushing takes place in the winter time. It's the time when the sun comes up and sets in the North meaning little to no light...
We were fortunate to go in Alaska's summer time where the sun comes up and sets in the South meaning little or no darkness. Funny enough falling a sleep in the sun light is not really that hard or maybe we where just so tired of all our daily activities including going mushing at midnight...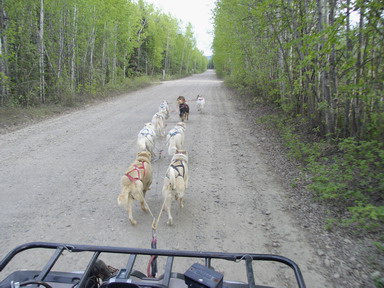 It was very cold at 12:00 midnight but bright and sunny out side.
It's a mushers dream.
In summer time there is little snow left, well more then what you see in South Africa but very little for Alaska being the capital of snow and sled dogs. So we did some dry land mushing. This is good though since that is what we do in South Africa too.
The first time Lynn Orbison told me to choose two dogs to mush with I was beside myself. My stomach was making turns from excitement. I mean these where real sprint race dogs and about 40 to choose from!
In her yard there is this narrow little road through the woods where you start out mushing to so many paths you can hardly count them.
So I said Lets go!
And off I went with my first two dogs...
With a quick Haw turn we were on our way going 32km per hour, these where her slower dogs.
We came to a halt with me giving the cue resting-resting. Oh they listen but you have to turn on the brakes the power of the dogs is just so much. These dogs just want to go!
But to be able to go a good distance we needed to rest. Then they start pulling so I let go of the brake and say straight ahead!
We come to a place where we have choices of roads between a Haw, Gee in the middle and Gee.
We took the Gee.
We went by kids on a bike but they did an onby perfectly so I gave them a Haw command but one to early as the roads where all new to me so we took the long way home...
After a few mushing expeditions I soon learned the trails and the dogs and we had fun. I found myself so in my element that I would be cheering the dogs on very loudly after a while passing neighbours dog yards I realised that they are a sleep...
With each Haw or Gee cue they pick up speed very excited to know where to go. These dogs are in their element mushing the dirt roads of Alaska. The word HOME is like nitrous in a car they blast off as if they just started running.
When we got home I gave them the resting cue again and stop by the water bucket so that they can drink immediately. Of course sweet Glad dips her whole body in the water bucket...
My next team was a little slower as they are not from Lynn's race team, but the team after that team with little Spruce now age 9 and Scoobi Doo we went 40km + per hour, that was a rush! This same team go even faster when Lynn is on her sled and ther are mushing along on the snow! Some say it's scary fast...
I learned about pack dynamics and knowing which dog to put next to which dog.
Not all dogs get along...
Some dogs can be a little moody sometimes and you need to know which dog to put next to a dog like that.
If you put a shy dog next to a dog that will pick on her she may decide she never wants to mush again.
If you put a shy dog next to a shy dog you may never get started as not one of them has the leader instincts to start mushing.
So you need to figure out that maybe you need to put a confident dog next to a shy dog, but a dog that still would be gentle.
The "snotty" dog may need a dog that couldn't be bothered with the dog next to him. He just wants to mush.
When you train a puppy it's good to put the puppy next to a confident but yet a gentle soul.
You should know who your leaders are. It should be a dog that is driven to pull and run. This type of dog should want to go and know he's directional cues.
The leaders tug lines should be tight at all times. Actually no dog's line should slack. But it happens from time to time, some dogs learn to let the team work and they only work when needed.
When I mush two of my dogs Ice and Decota they start pulling very quickly after I asked for the cue resting and this is my cue that they are ready to GO!
The key is to know your dogs. If you can't "read" dogs and know what they want when it is not your dogs then it's best to mush with your dogs or the person who's dogs it is should accompany.
It's not as easy as just hooking up a string of dogs. There are a lot of different personalities that need to be taken into account for your safety and the team's safety. This will also insure that everybody is having fun.
In these big teams you should know what signs to look for. Some dogs will tire before other dogs. Will you be able to take the dog home if he is not able to go any more?
Teach your dogs to rest...remember you will have to turn on the brakes as they will not want to stop at first.
I only saw 1 Siberian Husky the rest was all Alaskan Huskies which made me even more intrigued by this breed.
Lance Mackey's (Iditarod and Yukon quest champion)dad started racing with a Labrador.
So there is no rule that says you have to have a certain kind of dog to mush.
But...
There is of course certain features for a "winning" dog.
Depending on what your goal is almost any dog can mush.
We just need to keep it real and fun.
I saw foster dogs getting another chance at life mushing away in Alaska.